biography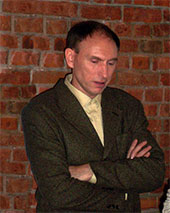 mobile + 48 603 883 338
e-mail miroslaw.grzelak.pl@gmail.com
Mirosław Grzelak was born in 1960. He studied at the State School of Visual Arts in Łódź in 1980 – 1985. He received his diploma in 1986. In 1987 he got a scholarship of the Ministry of Culture. He participated in many exhibitions. He is a member of the Society of Polish Artists.
He is profesionally engaged in paintings, drawings and interior design. He is especially interested in icon and mosaic. Travels have always played an important part in developing his interest in religious art. It was initiated by his trip to Greece in 1987, when he was introduced to the technique of the icon. He is also opened towards modern art.
His works can be found in many religious places, institutions and private collections in Poland and abroad. He has made more than 30. monumental mosaics. He lives in Łódź.